Double Glazzing
---
Re Stor Midlands can double glaze your existing timber windows without the costly expense and disruption of replacing the whole sash box and frames.
Using a slimlite double glazed unit we are able to fit this into the existing frame which means the original look of the window is retained. By doing so the home owner gains all the thermal and sound benefits without compromising the charm, character or value of your property.
It is not often that i get blown away by a building product, but i find this absolutely extraordinary, looks like a single pane of glass - Kevin McLoud - Grand Designs 2009. TV
The Info
Double Glazed Units have been around for many years and is known to provide insulation. However the degree or amount of insulation that can be provided is not widely known and is the most important factor in today's escalating heating costs (see note below).
By adapting and maximising the latest technology a double glazed unit can be produced which is very slim with an overall perimeter seal depth of 5mm, suitable for most single glazed windows, and most importantly with unbeatable insulation properties.
Rising Energy Costs
A recent commissioned report claims that since de-regulation of prices in 2002 and from 2002 to 2005 average energy prices have risen by about 60% more than inflation.
Investment Return
Figures published in 2005 stated that replacing single glazing with Low E Double Glazed Units will provide payback in 3 years, presumably less in 2008.
Carbon Emissions
Replacing one square metre of single glazing with Low E Double Glazing will produce a saving of approximately 90Kg of carbon dioxide emissions per year.
How its done
Double Glazzing Original Timber Sash and Casement windows
We first delicately remove the old putty and the old single pain glass.
Next we route in 2mm or 3mm from the rebate without detracting from the physical appearance of the windows to acomadate the new slim double glazed unit.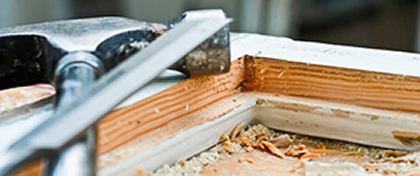 Routed rebate.
Using security glazzing tape and butyl tape we bed the new slim duble glazed unit into the frame and finish with a hard wood beading.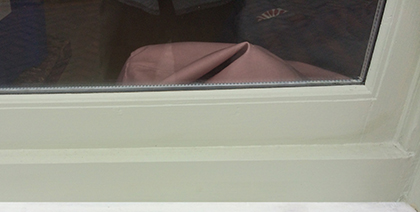 Beaded and painted to finish.
Painting
To finish we praserve, prime, undercoat and top coat paint using Dulux Weathershield system (unless a spesific paint or colour is requested)
New Sliding Casements
When an old window is too damaged or rotten to accept the new double glazed unit we can suply and fit new bespoke hardwood sliding casements to fit into the existing sash box. See our Bespoke Joinery page for more details.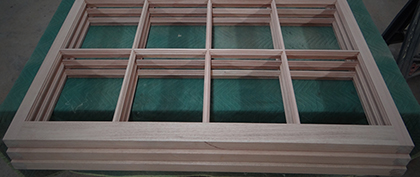 New bespoke sliding casemnet.
Sash Weights and Sash Cord
When replacing old single pain glass with slim double glazing the overall weight of the window increases so the sash weight have to be changed and the window re-corded and re-balanced to acomadate the extra weight.